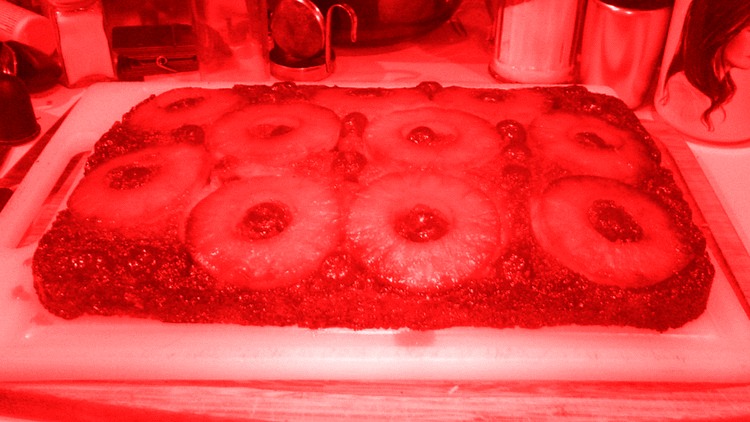 Sometime in the past year or two Sanguinity saw a large jar of maraschino cherries. Her heart leapt with joy at the thought of having so many, so we bought the jar. Also, we said we could make pineapple upside-down cake at some point. The cherries sat in the top of the cupboard for a long time, but at some point we did also buy a can of pineapple rings to sit there with them.
Sometime in the past week or two Sang made an agar jasmine dessert from a packet– much like the opaque white jello-y dessert that dim sum places have. It was tasty. The picture showed it served with canned fruit cocktail, so we opened the jar of cherries. Once the remaining cherries were in the fridge and vulnerable to snacking, the clock was ticking on the upside-down cake.
Today was cake day! It is so sweet that the cherries are the tart part.
I took a terrible photo with my phone and while I was trying to improve it via LunaPic, which I quite like for my simple photo-editing needs but which does not seem to have a one-button "improve this photo" option, I accidentally saved a filtered-red copy over the original. I did in fact make this cake in an ordinary kitchen and not a photo darkroom.