Coming from somewhere where cyclamen are only in pots, during the Christmas season, I continue to be pleased each fall at the ones naturalizing in the yard. They're spreading along a desire path in the vinca, so maybe I should make more room for them…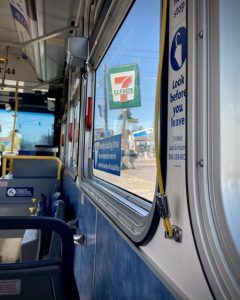 I took a couple of days off work last week, mostly because I had promised myself I could in the hectic busy weeks of July, and we had arrived at the time I'd blocked off. On Thursday I continued my very long-term project of riding all the bus lines. Somewhere there's a one-page zine about line #1, Vermont, and I later rode #4 Division but didn't write it up. And then the project lay fallow long enough that the routes changed, so now #4 is Fessenden.
N. Mississippi is a gentrified strip; I drank hot bubble tea and stocked up on greeting cards. Curiously, further down the line I discovered that N. Lombard in St. Johns has now gentrified almost identically. There is always a shop of cute little houseplants (especially succulents), and of course coffee and tea, and chocolate and something magicky. Woodstock and Sellwood are pretty much the same, which makes it so odd that these shops are always listed in travel articles about the neighborhoods as though they are distinctive.
I went by so many places I'd been repeatedly in years past but not for a long time. PCC Cascade, where I took counseling classes, and Peninsula Park Rose Garden and New Columbia Apartments where I'd done bike rides, and Super Burrito where we used to stop on our way home back when Mexican food was scarcer in Southeast. That was a long time ago. These sites kept popping up in a different orientation than I remembered (I took the 72 when I rode the bus to class) and bringing limited, partial slices of memory with them.
Spotted the St. Johns Cinema where Charlie hangs out to kill time in Lean on Pete. I reread that book a few months ago and it was still so good. Though I'm more aware now of how artificial Charlie's character is– he has to be just under the age where he can legally have a job, and his innocence is the heart of the book but wouldn't be likely in real life–really, for no particular reason he doesn't drink beer? And the ending, whew, wish fulfillment. But I wouldn't change any of it, because of the feelings it gives me.
Next, though tbd with no immediate plans, is #6 Martin Luther King Jr Blvd. Also a Frequent Service line (every 15 minutes or so), which makes all the difference in a bus line.
Tonight's plans: make a bean soup with rosemary and lots of the CSA celery, garlic and carrots for next week's lunches; continue watching season 1 of Orphan Black. Brace for going back to work tomorrow.