Graduation
Last week, and most of the week before that, I poured all my time into my final project for the IPRC Certificate program. I finished the revisions to my story last weekend, working all day both days; then every day after work I went to the university computer lab and laid out the InDesign files for text block and cover. Several days I stayed until the lab closed at nine. I was so tired after putting in three to five hours of extra work every day. Remind me to always work part time if possible!
I'm not sure if it's just how I am, or the nature of the chapbook-making process, or a function of this particular project, but everything seemed riddled with errors. Files did not get saved where I thought I'd saved them (though I found them all in the end), the margins and page numbers ended up inconsistent after I did the impositions for the large folded signatures, a couple of the fold-and-cut guidelines I printed on the inside of the cover turned out to be wrong, et cetera. I had a last-minute endpaper change after my waxed paper idea did not work out. An hour before deadline I was at the IPRC, trying to finesse the stack cutter and in the process ruining a few of the copies I had lovingly sewn and glued. But I made it and turned in my two copies, phew! And I have plenty of materials to make more when I've had a little rest.
Graduation was yesterday, at a dance studio on Belmont. My run of errors continued and I was late, after walking a half mile to the bus stop and realizing while I stood there that I had no money or bus pass and had to walk home and back to the bus stop again. Sheesh. At least it was a sunny, pretty day.
It was on the warm side in the studio, and everyone had to take their shoes off, and some people dressed up, and we sat in folding chairs on wooden risers, so it all had a charming high-school sock hop feel to it. It was good to see my classmates again after working independently for a couple of months. People asked to see my chapbook and said appropriate things like, "What font is that?" and "I can't see the ends of the thread from the final knot in your binding at all!"
So now I am fledged and certified in the writing and independent publishing of fiction and nonfiction! I appreciate a lot of things about the program. The writing workshop was good while it lasted, though I was sorry to see it fall by the wayside during production term. I got to see enough of letterpress and screenprinting to appreciate the art forms, and to know that I'm more of a digital girl. I got acquainted with InDesign and basic hand-binding. E-books were completely foreign to me before, and now I feel I could format my work for Kindle or other e-readers. And, as Justin the director pointed out at graduation, we don't have to all move away and leave school–we can keep on cranking out our work at the IPRC for years.
(But first I have to draft a story for Ken's Fan Club on Tuesday.)
Goalball
Last Saturday when I was in revision hell with my final-project story, I broke away to go to volunteer training at the university. I learned the basics of being a line judge for goalball, and today I volunteered at the regional tournament finals.
It was exactly what I needed as a counterpoint to my obsessive chapbook-making– a completely unfamiliar sport, the necessity of paying attention and hustling (the clock doesn't always stop while I'm dealing with the ball), and being around people in a way that is not too much about me. And the games today were exciting!
Short description of the game:
Three players to a team, wearing eyeshades to block all vision, on a court about the size you'd see for volleyball, but with no net and with a goal that stretches across the entire back line. Court markings are laid out in tape with cord underneath, so the players can feel where they are. The ball is basketball-sized, kind of hard and heavy, with jingly bells inside. The teams throw the ball, low (it has to bounce before a certain line on the court, and the goal is only about four feet tall), trying to make goals, while the defensive players dive, stretch out, and otherwise try to block. A lot of the players, especially the men, do a twirling discus-type throw that produces a lot of velocity and spin. Scores tend to be in the three-to-eight point range, higher than soccer but not much.
And a Paralympics photo that shows the court and defensive positions: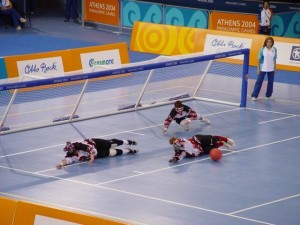 There were six matches this morning, and my feet were very tired by the end from all the standing and shifting and running. But totally worth it.