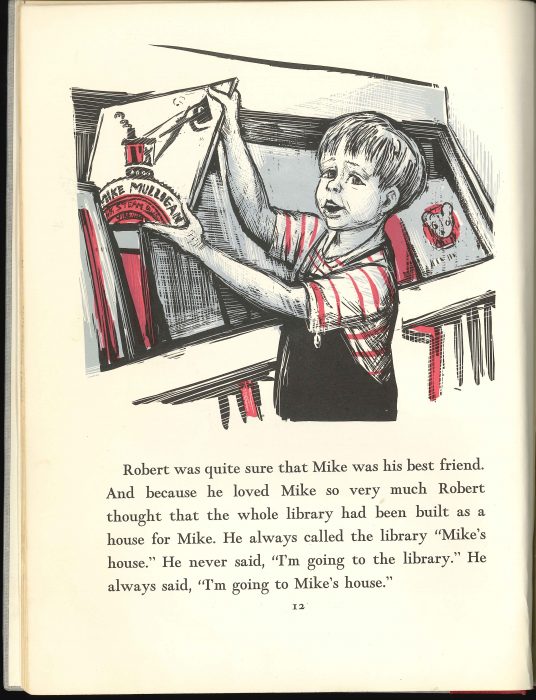 [text: Robert was quite sure that Mike was his best friend. And because he loved Mike so very much Robert thought that the whole library had been built as a house for Mike. He always called the library "Mike's house." He never said, "I'm going to the library." He always said, "I'm going to Mike's house."]
This is a page from Julia Sauer's Mike's House, published fifteen years after Virginia Lee Burton's Mike Mulligan and His Steam Shovel and fourteen years before Ramona Quimby asked how Mike Mulligan goes to the bathroom while he is digging the cellar for the town hall. I ran across Mike's House at the university library– I liked Sauer's Fog Magic as a kid and wanted to check out The Light at Tern Rock.
Mike Mulligan's fame and longevity blow me away. There's not even a note in Mike's House explaining that Mike Mulligan and His Steam Shovel is a real book or giving the author's name. Mike Mulligan just is. And once you know the story, he continues to live, unnamed, in the news:
Seattle construction-crane operators cope with stress, no bathrooms
"He says the most common question people have is how he goes to the bathroom up there."
The bizarre secret of London's buried diggers
"The difficulty is in getting the digger out again. To construct a no-expense-spared new basement, the digger has to go so deep into the London earth that it is unable to drive out again. What could be done?" (The reality is less cheery than Dick Berkenbush's solution.)
---
You know what else has longevity? Don't Stop Believin'. This Boomwhacker version has been in my head for days since I ran across it at TYWKIWDBI. I watched it all the way through on a difficult news day and felt better, that people do stuff like this, work on it until they can do it off book in one take.