It is still dark when I walk home from the bus, evenings. I was not expecting a glowing rabbit on Harold Street.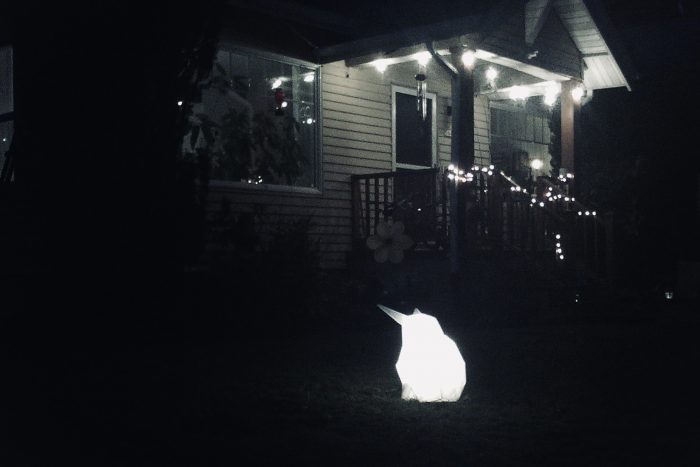 I like January's honest cold, better than the frequent chilly setbacks of springtime that start in February around here. Still, the last several photos I took on neighborhood walks seem to be of fences with a certain aesthetic:
On a brighter note, this morning I checked Twitter and remembered it was ALA Youth Media Awards day! I live on the west coast and am not a librarian, so I will probably always experience it in silence, sipping coffee in my bathrobe while feeling celebratory bursts.
My favorite book of 2019, Sal and Gaby Break the Universe by Carlos Hernandez, won the Pura Belpré Author Award! 
I don't read a lot of picture books, but one I loved, Infinite Hope by Ashley Bryan, won a Coretta Scott King Illustrator Honor. It's autobiographical, with many excerpts from Bryan's letters home during World War II, when he was in an all-Black company stationed on Omaha Beach during D-Day, burying fallen soldiers and shuttling out to the ships to unload gear as a stevedore. It's also about how he stayed alive as an artist in the face of racism and war. A treasure. 
And this was the first year that the American Indian Youth Literature awards got announced at this event, instead of separately a month or two later. The Middle Grade Book winner is Indian No More, written by the late Charlene Willing McManis (Umpqua/Confederated Tribes of Grande Ronde) with Traci Sorell (Cherokee), and with this beautiful cover art by Marlena Myles (Spirit Lake Dakota, Mohegan, Muscogee Creek): 
 In it, Regina is a kid when her nation loses federal recognition in the 1950s, and her family ends up moving away to LA, where the other kids only know about Plains Indians, through the distortion of TV and movies (so they think she's weird and fake). Its publication was a collaborative labor of love among several Native and POC women, and seeing a kids' book about disenrollment (and near where I live) feels important.