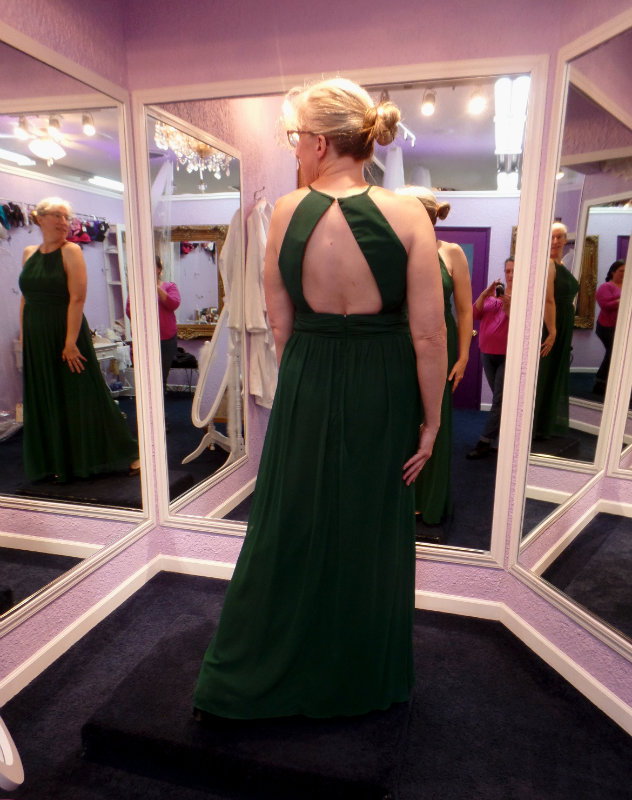 I'm in a "500 Words a Day" group on FaceBook that's pursuing what it says in the name, every day in October. Since I have a streak going on 750 Words already, I'm going for a blog post every day in October in addition. (Minus a few travel days later in the month, probably). They'll be a lot fewer than 500 words a day, but I love everyday journal-blogs and miss the days when I had one.
Today I picked up my dress for a friend's wedding. Sanguinity and I are both in the wedding party and needed a particular brand for purposes of matching color and fabric, so we went here, in Vancouver, Washington:
In addition to its Pinkwater-worthy name, Beyond the Veil has a full size range of sample dresses! unlike the three Portland shops I called first. C'mon, people, fat bridesmaids are a legit customer base! Anyway, they rock and I am almost sorry that my trips to Beyond the Veil (three in all) are concluded.
Other things today:
petted a labradoodle puppy named Teddy, so young he can't go on walks in public yet, who loved chewing Sanguinity's braid
made a grocery run and ended up with an inordinate amount of food to tote to my office: gum, peanut butter, English muffins, chocolate
finished Bil Wright's Sunday You Learn How to Box, which I think is the earliest YA novel about a black gay boy that I've found, even though the pub date is a late-feeling 2000. But the book is set in the late 1960s and has a feel of that era in its sparseness and dialogue– it reminded me a bit of It's Like This, Cat. So many pay phones!
Now I'm going to go do laundry.