I had a lovely holiday season with family and friends and road trips. I didn't take many photos, but here's one of sanguinity with her BFF Miss Piggy, on the night that thrihyrne and evannichols led us through the annual Extreme Holiday Lights display around the corner from their place: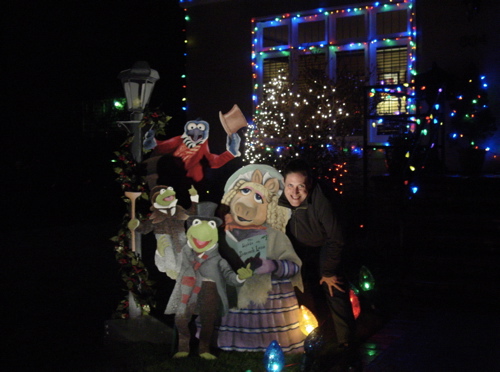 ——————————————————————-
I've finished pulling together the list of books I read in 2012. You can see the complete list here as a Google doc if you want.
I'll be adding these nine to my LibraryThing collection, bringing my collection there to 90 books in all:
Me…Jane, by Patrick O'Donnell (picture book)
How to Die of Embarrassment Every Day, by Ann Hodgman (middle-grade memoir)
Black Hearts, by Holly Black (YA)
Please Ignore Vera Dietz, by A.S. King (YA)
Every Day, by David Levithan (YA)
Dairy Queen, by Catherine Gilbert Murdock (YA)
Code Name Verity, by Elizabeth Wein (YA)
Middlemarch, by George Eliot (adult fiction)
Adrift, by Steven Callahan (adult nonfiction)
You know, I was going to write a blurb about each one of these, but so many end-of-year book lists have gone by on my screen in the last few days that I don't think I really need to add another. Maybe instead I'll call out the audiobooks that got me through a lot of dishwashing: Ruby Dee reading Their Eyes Were Watching God, Natalie Moore with the perfect Wisconsin-teenager accent in Dairy Queen, and Steve Martin talking about his stand-up days in Born Standing Up.
——————————————————————-
Happy New Year to all, and best wishes for a happy and fruitful 2013!