Shellynoir leaves Sang and me six tall IKEA bookcases when she moves to Brooklyn. They take up a whole wall of the living room. But
for several years they are mostly empty, because it is vexing to figure out how to attach them to the wall so they won't kill us in an earthquake.

old-school lathe and plaster wall in which it is difficult to find studs
baseboard that keeps the shelves from standing quite flush with the wall. It doesn't seem right to remove and saw up the baseboard for shelving if it's not built-ins. But!

for my birthday, Sang Does The Thing!

buys boards to affix to the wall, solving the baseboard gap problem, and even paints them to match the wall, with paint the previous owner left behind for us in the basement in 1996
gets toggle bolts to fasten the boards to the wall, even though making 5/8″ holes in the plaster is unnerving
fastens the bookcases to the boards with L brackets.

We go to IKEA for a few extra shelves. And breakfast.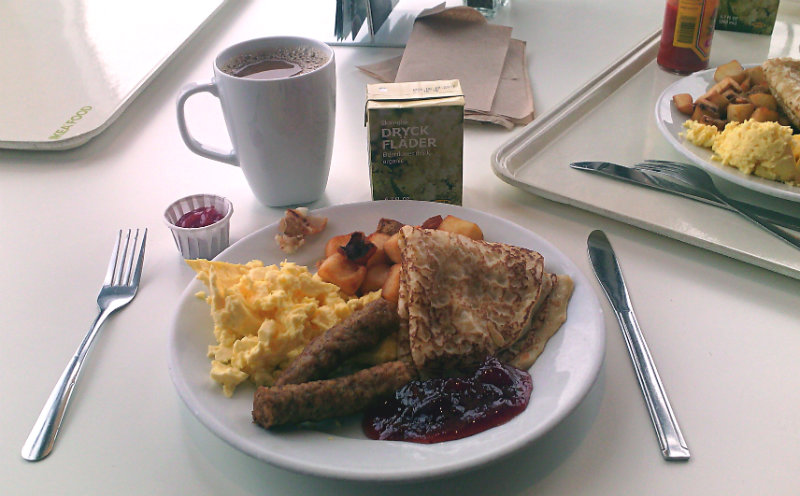 Two dollars! excluding coffee and elderflower drink.
Things that now have a designated place on the living room shelves:
current household files
shoe box of correspondence to be saved
my university library books
my TBR that are not library books
my borrowed-from-individuals books
footstool that Bookherd made
art supplies TBD – colored pencils and sketchpads?
picture books
OED, Oregon road atlas, Sunset Garden Book, Chinuk Wawa dictionary, and a few other reference books
the globe
comics
poetry
coffee table books
empty shelf for the kitty
Legos, Zoob, K'Nex
games
art and photos from friends
pop-up books
Sang's research project books, mostly from university library
Sang's Holmesiana
yoga mat, foam roller, rollout-stick
Now, in addition, the mostly-fiction in the other room won't be so overstuffed, and shelving will be easier there too. I am very, very pleased.