I was at FuBonn again over the weekend, and felt so knowledgeable when I grabbed the multi-pack of Paldo Green Tea Chlorella ramen, because I knew I liked it! But I also got some new varieties to sample.
Sanguinity and I both came down with a cold a few days later. I made up the "creamy tom yum" flavor of Mama ramen from Thailand: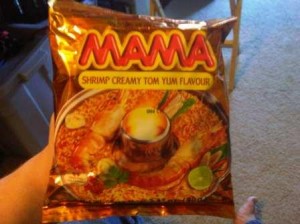 I was wary of the "creamy" part, but this was delicious ramen! The noodles themselves were dusted with spice, and the seasoning packets separated out the tamarindish paste, the regular powder seasoning (with creamer), and a small sub-compartment with the hot chile powder. Okay, it wasn't quite the same as fresh tom kha, but it reminded me of it in all the right ways.
Here's a review from ramenrater. They didn't like it as much as I did.
And, from the Guardian via @bittman (Mark Bittman's twitter stream), this fascinating 2005 history and defense of MSG. Google tells me I'm not the only one who sees "MSG" and thinks "Ever So Much More So"!