In my Labor Day browsing I ended up reading about Joe Hill, the Wobbly labor activist executed by Utah in 1915. I was surprised to see that the text of his last will and testament were already familiar to me– as a song we sang at Girl Scout Camp.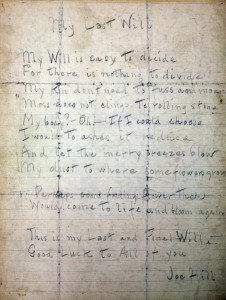 My will is easy to decide,
For there is nothing to divide.
My kin don't need to fuss and moan,
"Moss does not cling to a rolling stone."

My body? Oh, if I could choose
I would to ashes it reduce,
And let the merry breezes blow,
My dust to where some flowers grow.

Perhaps some fading flower then
Would come to life and bloom again.
This is my Last and final Will.
Good Luck to All of you,
Joe Hill
I think he would have been pleased about the disposition of his ashes (as described in the article). And also that the Girl Scouts kept his words alive while washing their melmac plates after dinner.
Yesterday was the last cookout of the summer, with evannichols and thrihyrne, and tomorrow will have the appropriate back-to-school feel as I start a free class on stats at Coursera. Happy Labor Day!