The middle day of a three-day weekend is a beautiful thing. Sanguinity and I went to our favorite coffee shop and ate this: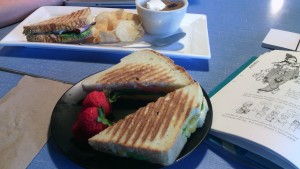 and I drew Batman (a bit Loki-ish now that I think of it):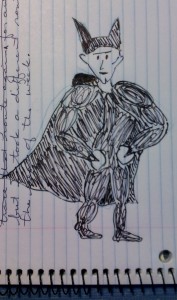 —————————————————————————-
Last week I started reading Jenny Han's To All the Boys I've Loved Before and did not want to stop til it was (sadly) over! (But there's going to be a sequel!) It has a bit of a Little Women vibe, with three close sisters and the boy next door. It's about family and friendship as well as romance, and the characters were likeable, good kids just trying to figure stuff out. Even the mean girl was not that mean and had an understandable motivation based on the characters' past interactions. It's the kind of sweet comfort reading I call a cupcake, light and well written.
I was a little taken aback at how much of my pleasurable sigh as I got into this book was based on the setting of universal affluence. I mean, starting on page two, the characters are talking about a possible trip to Paris over spring break. And when they decorate their Christmas tree, it's "We run out of lights, so Daddy goes to buy more at the store." (I grew up middle class, but you unwind the lights and redo them with more space between the rows!) It's not a gossip-girl type thing where conspicuous wealth and glamour are what the book's offering; it's a shiny, normalized wealth where teenagers have cars and no one thinks twice about ordering pizza delivery once a week. I love it when books show working-class families (Ramona and her Father, Please Ignore Vera Dietz), but apparently I love this too, in a different way. Maybe it's nostalgia for Nancy Drew and her roadster, or the baby-sitters in Stoneybrook? Some kind of relaxing escapism going on.
At the same time, I happened to have also just started Dani Shapiro's Still Writing: The Perils and Pleasures of a Creative Life in a desultory way. (It's my backup bus book, in case I finish my book on the bus, or don't feel like reading my regular bus book. Not an exalted position in my book hierarchy.) Weirdly, the unremarked-on affluence in that book made me grouchy and resentful! She buys a pricey chaise longue "covered in an antique Tibetan blanket" because why? Because "although I have an office in my home, it had grown stale. My desk was piled high with papers, mail, and various forms that had nothing to do with my writing life." A few pages later, she's like, "I can't imagine what my UPS delivery guy thinks when I crack open the door to sign for a package. There's that weird lady again." Um, he thinks you don't have to go to a job. Right? By this time I was pretty much hate-reading ("On my desk, propped between two Buddha-head bookends," grrrr), until on page 47 I came to: "my friend Peter Cameron." What? Really? Well. Just in case they really are friends and I am missing something, I will quit with the judgey and keep reading to learn something. I'll let you know.
—————————————————————————
Yesterday Sanguinity and I went on a Heritage Tree Walk down in Sellwood. The rain was coming down like it meant business, but there were still about a dozen of us there, led by an arborist and an AmeriCorps volunteer and someone from the city's street tree program. We saw a gorgeous pair of American Chestnuts that escaped the blight, a big Oregon white oak, and an amazing huge European Copper Beech in a big yard. But one of the coolest things was when one of the leaders started measuring the trees that were on public property or in the planting strip between sidewalk and street with a diameter tape!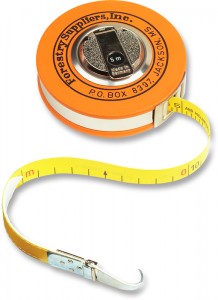 It's a cloth tape with a little crank for winding it up again after use, and each "inch" on the tape is actually 3.14 (or so) inches long. So you measure around the tree and the number on the tape is the diameter. I wish every kid learning about pi and circles could play with one, it is so pleasingly concrete.
At the end of class we got a booklet with maps and descriptions of every heritage tree in Portland. And an application in the back in case you know a tree you think should be designated. (They're pretty choosy, accepting only about 25% of applicants.) So we are equipped for a project if we ever want to go visit them all. :)