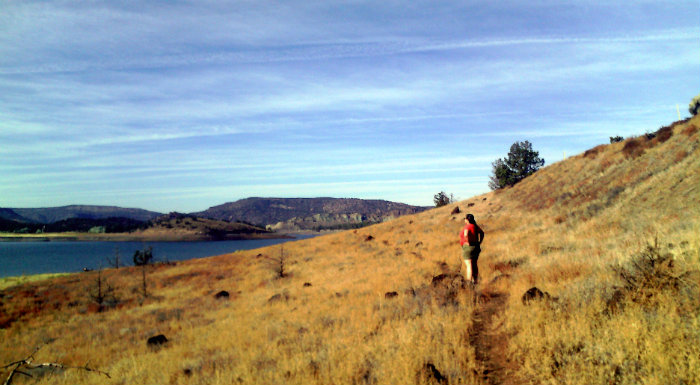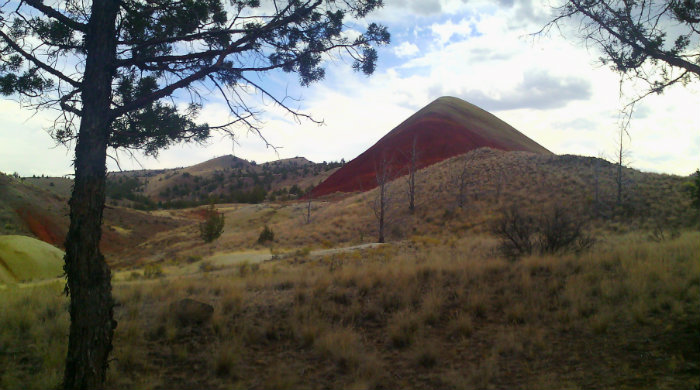 At the end of last month, Sanguinity and I went on vacation. It's kind of a new thing to me as an adult, Going On Vacation when it's not a race or dog-sitting or helping someone move or visiting relatives. It feels strange to optimize purely for enjoying ourselves and doing or seeing something memorable.
Our first plan, a fire lookout reservation, fell through when I realized it required a 4WD. Then Sanguinity suggested we go east, and I reserved a state-park cabin by the Prineville Reservoir. The desert!
We heard coyotes every night (Sanguinity has trouble waking me up usually, but I woke up for coyotes, every night). Quail and little lizards ran around, and the black-tailed jackrabbits stood on all fours with their back legs unfolded, so they looked like tiny deer with big ears. And there were magpies, a bird I miss from my Colorado days. The water was so hard it tasted salty. And man, the stars.
On our way home we visited two of the three parts of John Day Fossil Beds National Monument, skipping the one with the visitor center. We are wimpy drivers and everything is an hour or more from everything else in Eastern Oregon, on beautiful but winding roads. But every "okay, let's do it" call turned out to be the right one.
We also happened to drive through Antelope, Oregon on the way back to the Gorge. I hadn't realized how tiny it was– old buildings, some abandoned, plus some mobile homes. I can only imagine what the Bhagwan Shree Rajneesh days must have been like for longtime residents. I mean, the gossip value alone!  o_O
When we got back to Portland, the season had changed and October rains were here. I was ready.
———————————————————-
Somehow I requested Jacqueline Woodson's newest book, Another Brooklyn, in both audio and print versions from the library. The audio version came in first. Robin Miles is a wonderful reader and I'm going to seek out her other work– she's recorded books by N.K. Jemison and Nnedi Okorafor too. It wasn't the technical show of "doing all the voices" or characters at different ages, although she was fine at that. Her voice took its time and matched the poetic rhythm of the text, without ever becoming "poetry voice."
Even so, listening was frustrating sometimes, because there were so many moments that I would have looked up and paused for awhile if I were reading in print. But maybe that's why, when I finished in the middle of a long run at the track, it was so easy to go back to the first track and start all over again.
The one thing I wasn't thrilled about in Another Brooklyn is the grown narrator's career as an anthropologist who studies death rituals. It felt like a literary-fiction device, choosing such a thematic career and then every now and then mentioning that the x people do y with their dead. Ah well, every genre has its tics and tropes, lit-fic no less than the rest.
I quit my next audiobook, The Mother-Daughter Book Club, because I don't have time in my life for a character arc that starts with making fun of kids' lack of money and unstylish clothes. Even if Little Women is involved, apparently! Sigh. Maybe I'll try it in print if I run across it.
Now I'm listening to Jo Baker's Longbourn, and loving it so far because there's LOTS OF CLEANING. I can't explain why this is so surefire for me.
———————————————————-
I've been enjoying The Billfold's "What Children's Literature Teaches Us About Money" series– the essays on Harriet the Spy and Bridge to Terebithia are good examples. I especially like the chance to re-evaluate adult characters. Yeah, Mr. Waldenstein does sound suspiciously no-one-understood-my-deepness. And there was always a slight whiff of the ridiculous in Leslie's parents, but it's much darker when you zoom out and consider why they're in Jess' town in the first place.
Does any adult lend himself more to re-evaluation than Pa Charles Ingalls? It's probably a lifeling project for me, raised as I was in thrall to the books, the TV show, and my own little slate and calico bonnet. It was always, always so much easier to dislike Ma than Pa as a child reader. Parenting by the Books: On the Banks of Plum Creek takes a look at that.